How to Pick the Best Coffee Maker in 2020?
---
Do you want to enjoy a perfect cup of coffee at home, but are not sure how to pick the right coffee maker? Are you considering buying a capsule coffee machine? Are lever coffee machines better than automatic ones? And wouldn't the good old drip machine for filtered coffee be enough?
Having a perfect cup of coffee is essential for any coffee enthusiast. Even though we all love small cafés where skilled baristas perform their magic, we all want to achieve the same results at home.
How Do You Like Your Coffee?
Let's be honest we all love a good espresso. But before buying an expensive espresso machine, it's good to consider whether you really want or need the quality at home.
Filtered coffee from a French press or Moka pot can often be better and cheaper than espresso from a lower quality automatic coffee machine. Grinding a coffee at home and having a Bialetti can become a beautiful part of a coffee ritual.
On the other hand, if what you really want is a good cappuccino or café latte, sadly, French press or Moka will leave you disappointed. These machines are not equipped to handle milk or a larger quantity of coffee in a short time.
Capsule Coffee Machine
These relatively cheap and easy to use machines seem great at the first look, but beware! You pay for every use! Even though the individual capsules are not expensive, the expenses add up with each cup. Not only that, most machines are only able to handle their brand of capsules, making you dependent on one supplier, and taking away the option of having a freshly ground coffee from time to time.
As with automatic and lever coffee machines, we can find a steam nozzle, which allows you to prepare milk froth.
If you are trying to watch your carbon footprint, we feel that you should be aware that most of the capsules are almost completely unrecyclable. Their inventor, John Sylvan has even admitted to regretting his invention for its negative environmental impact.
Lever Coffee Maker
The lever coffee machines give you, as an aspiring barista, a space for experiments with coffee preparation.
Skilled baristas can easily influence the taste of the coffee (unlike with the capsules or automatic coffee machines). Sounds exciting, doesn't it? Well, there is a catch.
If a skilled barista influences the taste of the coffee for better than an unskilled one can turn even the best coffee into a fiasco. In addition to the quality of the coffee itself, the quantity, the quality of the grinding the hardness of the water, the pressure of the coffee machine, and many other factors are also at stake.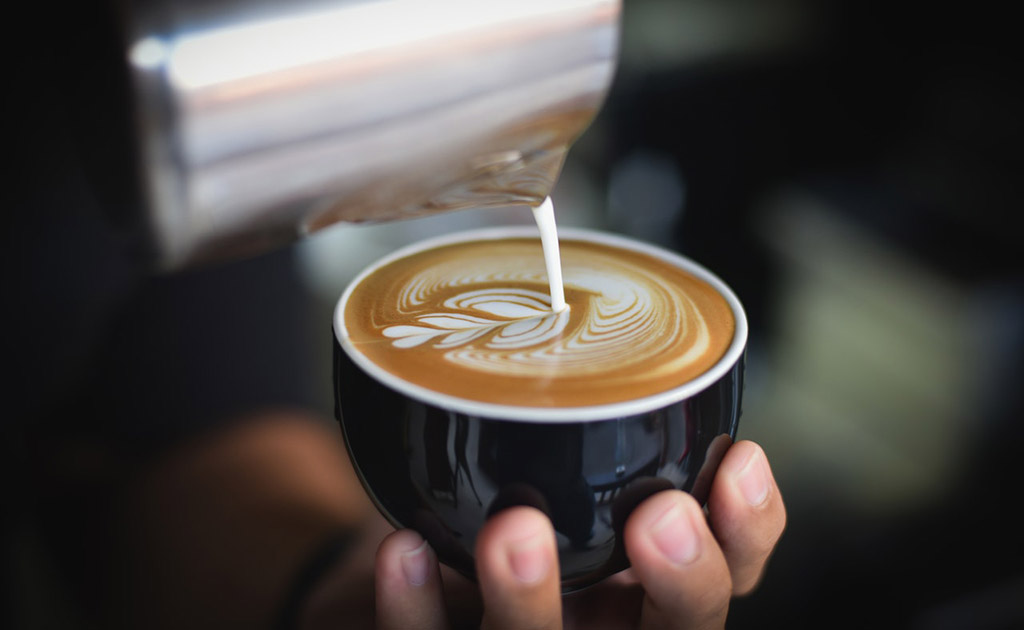 When choosing a lever coffee machine, make sure that it is able to develop a pressure of at least 9 bar (ideal for espresso) and that it is able to heat the water to the right temperature.
These two quantities fundamentally affect the final taste of the cup and cheaper models have a problem achieving these. In addition, the pressure should not drop when brewing coffee.
These coffee machines are usually equipped with a steam nozzle for the preparation of milk foam for latte art. The quality of the foam depends on the quality of the coffee machine and its nozzle. You also have to count on a little more demanding maintenance.
Lower quality coffee machines let the pressure rise in the first phase of preparation, then release it. The quality of coffee thus suffers.
If you like the taste of coffee prepared with the lever coffee maker, but want to save up electricity, we recommend the ROK coffee maker.
You push the coffee with your own hands, all you need is hot water and the well grinned coffee. And above all, it looks cool!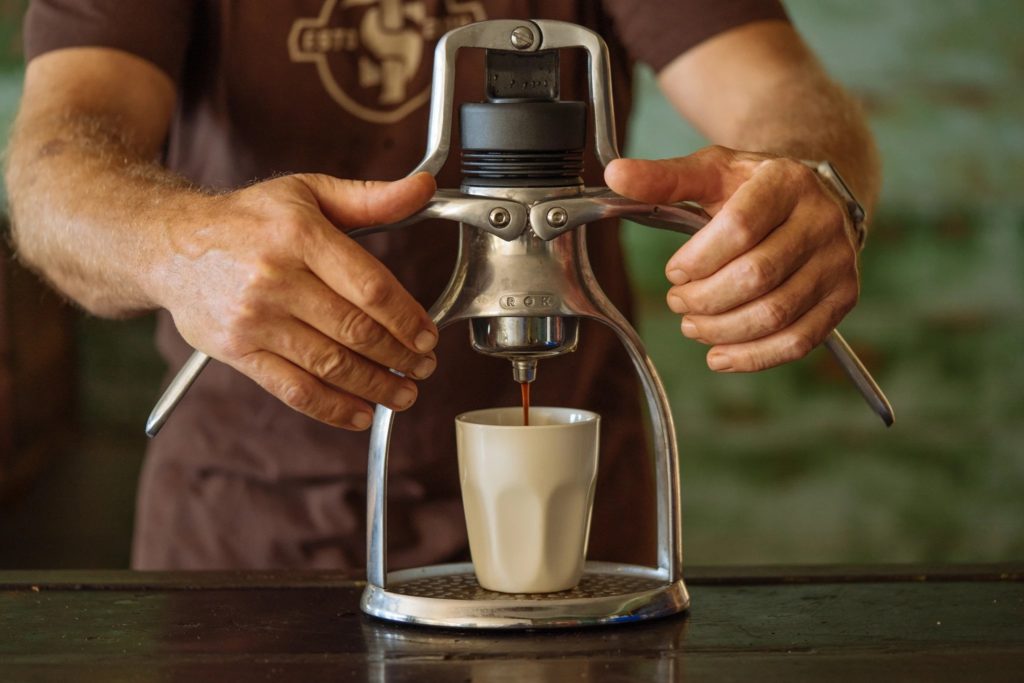 Professional Coffee Machine
For the sake of completeness, it is impossible not to mention professional coffee machines intended for cafés. Sadly (for us) an average mortal, albeit a coffee enthusiast, only seldom gets one.
Although they offer superior quality, their price makes them suitable for cafés rather than home use. These devices usually do not have a built-in coffee tray or grinder and cleaning requires practice and preparation of someone with experience.
If you are considering choosing a professional coffee machine for a café, know that you need to carefully consider several aspects. Are you willing to buy a used one? How many heads will you use? Is it serviceable? Buying a professional coffee machine is no small feat and you should not make this decision lightly. A bad coffee machine can ruin reputations as well as taste buds!
Automatic Coffee Machine
Probably the most convenient variant of espresso preparation must be one from an automatic coffee machine. With one touch of a button, you have an espresso; coffee is grounded, compacted, and brewed. Even the waste removes itself and when necessary, the machine will request a cleaning on a display.
It is ideal for places where coffee is made and enjoyed in large quantities such as offices, receptions, hairdressers, and other places of business.
If you are considering getting an automatic coffee maker, make sure to get one that has an adjustable coffee spout (the beak from which the coffee flows into the cup) to avoid problems with different mugs. Almost every coffee machine of this type is also equipped with a steam nozzle (for the preparation of milk foam).
Have you picked one yet? Not everyone wants or needs a coffee machine. If you are thinking about grinding your own coffee to make a cup, check out our grinders' article.