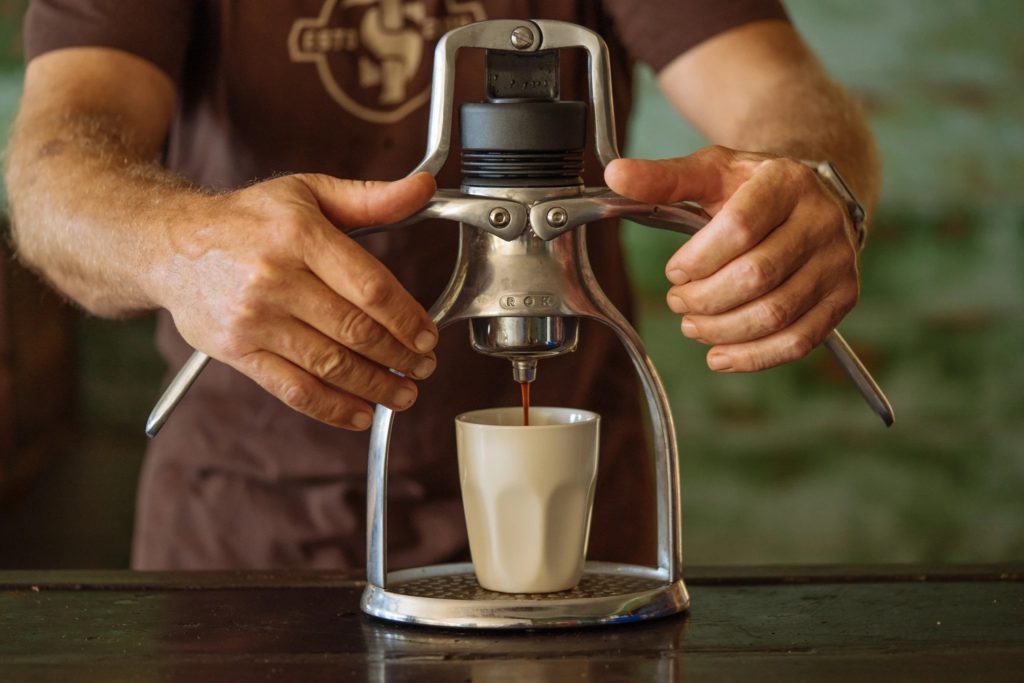 Aluminum ROK Espresso Maker – Press an Espresso in Your Own Hands!
---
An unusual apparatus crafted from hardened aluminum which creates an excellent cup of coffee in a few seconds. It works without electricity, a trendy plastic housing, or complicated settings. The only setting is you. This is the robust and unique design of the ROK Espresso Maker.
The workings of the ROK Espresso Maker
The ROK Espresso Maker makes coffee without the use of electricity, like a Handpresso or French press, you need only to grind the coffee and come hot water. Due to the effect of the leverage system, the hands pressing it don't have to be overly strong. It is important that the apparatus is properly secured to the surface before you can begin to wrestle with your coffee.
Don't expect aesthetic magnificence
Compared with the "real thing" for making coffee, do not expect stylish buttons, housed in a plastic box which serves George Clooney. The ROK Espresso Maker is a robust mechanism made of high-strength aluminum alloy which doesn't pretend to be anything other than it is.
The minimalist design is a stark contrast to the current trend of super simple coffee machines, which often resemble vacuum cleaners. The ROK Espresso Maker does not need to fulfil this criteria, its appearance just works. But for the for this design you will pay – and not just a little. The ROK Espresso Maker Original variant come in at about $168.28, for which it is possible to buy a medium-quality, automatic espresso machine.
Here we go
If the video doesn't help, try the following:
Fill the lever with your coffee (ideally freshly ground), compress and place in the ROK Espresso Maker.
Fill the piston with hot water (ROK Espresso Maker shoulders are still down).
Lift the shoulders of the ROK Espresso Maker upward and then push down force. Water will flow under the pressure of coffee.
If water will not flow, don't try and force it! If it doesn't, it doesn't – you've probably compressed the coffee too much or ground it too finely.